Original Posting At http://paintedprayerbook.com/2018/03/12/lent-5-testimony-to-the-mystery/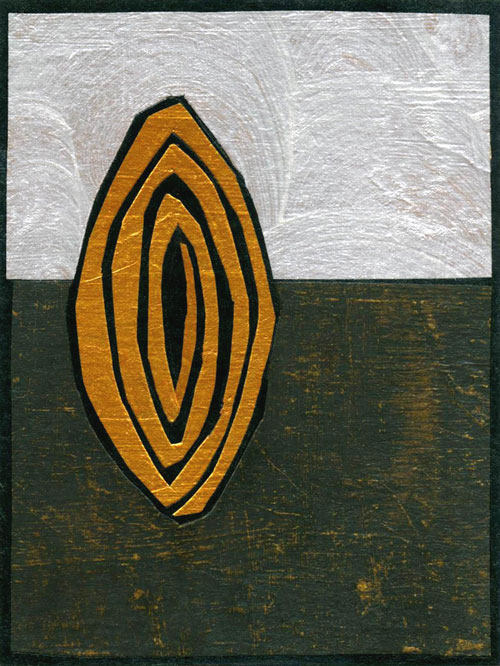 Image: Into the Seed © Jan Richardson
Readings for Lent 5, Year B: Jeremiah 31.31-34, Psalm 51.1-12,
Hebrews 5.5-10, John 12.20-33
We work so very hard at letting go, sometimes, trying to train ourselves to release our grip on all that is not God. But what if it is not about giving up but giving in? Falling into dirt, as Jesus says here. Going where grain is supposed to go.
—from Lent 5: Into the Seed
The Painted Prayerbook, March 2009
A lot of life has happened since I wrote those words nine years ago, in a reflection on this week's reading from John's Gospel. A lot of life, and a death that alters how I read this passage now.
It goes against all reason—that what falls into earth could live again. That letting go could enable this living. It bears discernment, of course, so that we may know when we are being called to hold on fiercely, to refuse to let part of ourselves die, and when to release our hold in order to let new life rise up in us.
The discernment depends little on reason, though, and as I spiral back around the reflections I've written for this week's lections across the past decade, it's the presence of paradox in those reflections that still resonates so strongly for me. That tension and relationship between dying and rising, hiddenness and revelation, losing and finding, intention and surrender.
I am here to bear testimony to that paradox, that mystery, and to the presence of the God who seeks us out in the midst of it all: the God who, Jeremiah tells us this week, offers us a new covenant; the God who, the psalmist sings, releases us from the sin that has held us; the God who, Paul writes, saved Jesus from death and who, with love and mercy beyond reason, is ever at work to provide that same gift of life to us.
In this fifth week of Lent, what is the God of paradox and mystery up to in your life? How are Jesus' words about dying and living sitting with you? Is there something you are sensing an invitation to let go of in order to enter more fully into the life God desires for you? What help do you need in order for this to happen?
For you, for this new week in our Lenten path, I've gathered up a collection of reflections I've written for this Sunday's readings across the past ten years. I'm slipping them into your hands with gratitude for the ways you share this path, and with many blessings.
John 12.20-33
Lent 5: Into the Seed
5th Sunday in Lent: Unless a Grain of Wheat Falls
Jeremiah 31.31-34
Day 24: And Remember Their Sin No More
Psalm 51
Day 25: And Cleanse Me
Day 26: My Secret Heart
Day 27: Restore the Joy of Salvation
Hebrews 5.5-10
Day 28: With Loud Cries and Tears
Using Jan's artwork…
To use the image "Into the Seed," please visit this page at janrichardsonimages.com. (This is also available as an art print. After clicking over to the image's page on the Jan Richardson Images site, just scroll down to the "Purchase as an Art Print" section.) Your use of janrichardsonimages.com helps make the ministry of The Painted Prayerbook possible. Thank you!
Using Jan's words…
For worship services and related settings, you are welcome to use Jan's blessings or other words from this blog without requesting permission. All that's needed is to acknowledge the source. Please include this info in a credit line: "© Jan Richardson. janrichardson.com." For other uses, visit Copyright Permissions.