Original Posting At http://paintedprayerbook.com/2018/02/13/lent-1-the-wild-language-of-lent/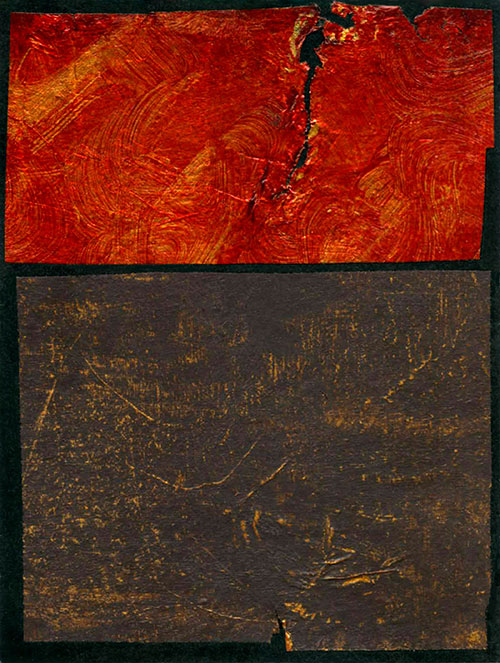 Image: Into Earth © Jan Richardson
Readings for Lent 1, Year B:
Genesis 9.8-17; Psalm 25.1-10; 1 Peter 3.18-22; Mark 1.9-15

As Jesus knew, going into the barren and uncomfortable places
isn't about proving how holy we are, or how tough, or how brave.
It's about letting God draw us into the place where we don't
know everything, don't have to know everything, indeed may be
emptied of nearly everything we think we know.
—from Lent 1: Discernment and Dessert in the Desert
The Painted Prayerbook, February 2008
Into the desert, again. Into the wilderness that waits for us, still. Ten years we have traveled through Lent here at The Painted Prayerbook. It is never quite the same path from year to year, never precisely the landscape we explored the last time around. This, of course, is part of the point of Lent: it disrupts what is comfortable, familiar, and known, that we may be startled out of our customary ways of seeing.
As I gathered up the reflections I've written for the first Sunday of Lent across the past decade, my eye was drawn to the vocabulary that has emerged as we've explored this season—the Lenten lexicon that has taken shape as we've journeyed through these weeks again and again.
I began to write down the words that drew my eye as I revisited these reflections. There was wilderness, of course, and desert. There was memory and story and earth.
Pilgrimage, I wrote; sustenance, breath.
Hunger, thirst, graces.
Emptying, angels, sweetness, strength.
Passage, preparing, solitude, beasts.
Comfort, wild, wrestling, solace.
Recognition, wing, clearing, liminal.

There were questions and chaos in the Lenten lexicon,
clarity and knowing,
discernment, treasure, initiation,
essential, sojourn, practice.
There was enough.
And there was this word, shimmering in the midst of them all; the most fundamental word we need to know in this or any season:
Beloved, beloved, beloved.
As I look back over the list, I wonder how this vocabulary, this Lenten lexicon, will arrange itself this time around. How will these words constellate in this season, what path will they create, what map will they make? When I look back on this landscape from the other side of Easter, what story might these words be able to tell me? What new words might arrive to help fill in the gaps, the hollows, the holes?
What are some of the words that inhabit your own Lenten vocabulary, that have emerged in your own journey through this season, year by year? If you make a list, what do you notice? What story—or litany, or poem, or map, or—might these words begin to make?
From across the past decade, I've gathered together these reflections for you—a little Lenten library, offered with gratitude and blessing. Deep peace to you as Lent begins.
Mark 1.9-15 (includes reflections on related Gospel readings)
Lent 1: Where the Breath Begins
Lent 1: Beloved Is Where We Begin
First Sunday of Lent: And the Angels Waited
Day 2: Up from the Water
Day 3: Into the Wilderness
Day 4: With the Wild Beasts
Lent 1: A Blessing for the Wilderness
Lent 1: Into the Wilderness
Lent 1: A River Runs through Him
Lent 1: Discernment and Dessert in the Desert
Genesis 9.8-17
Using Jan's artwork…
To use the image "Into Earth," please visit this page at janrichardsonimages.com. (This is also available as an art print. After clicking over to the image's page on the Jan Richardson Images site, just scroll down to the "Purchase as an Art Print" section.) Your use of janrichardsonimages.com helps make the ministry of The Painted Prayerbook possible. Thank you!
Using Jan's words…
For worship services and related settings, you are welcome to use Jan's blessings or other words from this blog without requesting permission. All that's needed is to acknowledge the source. Please include this info in a credit line: "© Jan Richardson. janrichardson.com." For other uses, visit Copyright Permissions.